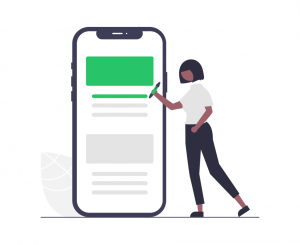 Are you tired of spending hours thinking up content ideas to attract leads online, only to find that your latest posts have been seen by 5 people, and one of those was your mum?
Social media platforms use algorithms to determine who and how many people your posts are shown to, and one of the fuels that drives the social media engine is engagement. 
When your content is receiving lots of engagement, socials assume that your content is a popular topic and people will be interested in it, so it gets shown to more people. This can lead to additional engagement and a further boost to visibility of your posts in news feeds etc. and the cycle continues. Helping you to grow your following and attract leads online. 
Engagement comes in many forms, including:
Comments.

Likes. 

Retweets. 

Shares. 

Adding to stories.

Tagging.
Here are some tips to increase engagement and get your posts seen:
Understand Your Target Audience 
 To get people to engage with your posts, you need to understand your audience and their interests. Having a good understanding from the start can help you to create content that hits the spot.
 You also need to have a clear idea of the brand you are building and the people that you want to attract. Do you have a mission statement? What are your company goals and values? 
 A target audience is a group of people that are likely to buy your product, defined by common characteristics such as:
Age. 

Gender. 

Location.

Interests.
Defining your target audience helps to put yourself in the shoes of your customers and produce focused posts that resonate with them and are useful to them. 
Here are some tips for defining and understanding your target audience:
Define
Use Google Analytics: Google analytics gives you lots of useful stats about who is visiting your website such as age, location and more. 

Social media insights: Most social media platforms give you demographics of your followers and the people that have been engaging with your posts. 

You don't have to just stick to social: You can look at the demographics of email subscribers, blog info from content marketing campaigns etc. 
Understand 
Research audience behavior on social channels: What are they saying? What do they post in groups etc. Try to understand them and their needs.  

Create social media personas:

Social media personas

are avatars of your ideal customers, created to give you a better understanding of your audience E.g. If you sell gardening equipment some of your buyer personas could be: Bob, 55, retired, spends most of his days gardening, has a sizable allotment. Jennifer, 31, grows her own zucchinis in the window boxes of her flat. They help you to put yourself in the shoes of your ideal customers and provide content and products specifically tailored to them. 

Ask your audience: Find out the needs of your audience by simply asking them! You can post polls in socials, send out surveys to your email list and use Xeno's post-chat surveys, but more on this later!
Analyse Your Existing Social Stats
 If you aren't starting from scratch with social, then you may already have a good set of statistics from previous posts and campaigns that you can use. Look at what has worked for you before and what hasn't? Which posts had the most amount of likes or comments? Why do you think that is? You can double down on those that work and reduce those that aren't. Or try to work out why they aren't working. However, it's important to find a middle ground here as what's hot on social media changes quickly, what works one week may not work the next and overusing one strategy can become stale and stagnant for followers. Stay flexible and keep innovating.
 Regular social media reports on what is working and what isn't can help you to continually optimize what you are doing. 
Top tip: Xeno has lots of features that can help you to maximize your posts for engagement. With post-chat surveys you can monitor trends in customer interests / what is important to them and tailor your posts accordingly. 
 These surveys are quick and simple to create with the option to add yes-no, open-ended, or star rating questions. E.g. How would you rate the level of support you receive for our products? 1 – 5 stars. Was your issue fully resolved in this call? Yes – No. Is there anything we could do to improve our product and service? Open-ended answer. 
Planning and Scheduling
 Once you know who your target audience is and you have a vision for your brand, you can start planning your social strategy. Planning and scheduling your strategy in advance can help you to increase engagement for a number of reasons:
A strategic approach: There are lots of variables to consider when looking at engagement, what time of day did you post, what day, what was the context etc. Using this method, you can look at variables in a more controlled way than posting randomly when you think about it. E.g., For one month you could keep the content type of a post the same but change the time of day you post it. Then the next month you could adjust the time again until you can find an average for the best time to post. 

Mixing up your content types: When you plan in advance you can create a varied schedule with different types of posts that mix it up, so followers don't get bored and engage less. If you are posting on the fly, it can be easy to get stuck in a rut and post similar types too often. 
Consistency: Social media rewards consistency, continually showing up and generating engagement can give you more visibility and engagement, the cycle continues again! When things are planned and scheduled you don't risk having days of no posts because you have another commitment or are ill etc. 
Interact
 This may seem like a no brainer, but if you want engagement then you must engage right back with your followers. Think of social media as a conversation, you wouldn't walk up to a stranger, ask them a question and then walk away before hearing the answer. Replying shows that you value your followers' time, it can boost your post visibility and encourage more discussion which will in turn get it seen more! 
 Don't leave it too long to reply. Imagine starting a conversation, leaving, and then returning 5 days later to reply, haha!
 Keep in mind that this is "social" media, it's generally a place people go to in their downtime. Don't always try to sell to people, keep it friendly and light-hearted for the majority of the time (depending on the nature of your business of course!).
Quality Content
 People respond to quality content, you could have 10k followers but don't expect to get strong engagement if you put out images that look like they have been designed with clip art in the dark and have little relevance or value for your target audience. 
 Strong content:
Looks good: It's hard to stand out in a newsfeed where everyone is competing for attention. Eye-catching images and well-written copy can stop people scrolling and start engaging with your content, which is half the battle. Branded posts with a professional finish can also help to increase trust in your brand, but more on this later. There is also a time and place for DIY chic as well, but this is a whole other article. 
Is relevant to your target audience: You could have an excellent, well-written point, but if it is not personalized to fit your target audience then engagement from current followers is likely to be low. Plus, you are going to attract new followers that don't match your vision for your brand, which in the long run will mean less engagement too. 

Adds value. Are your posts enhancing followers' lives in any way? Creating content that adds value is a great way to increase engagement and build trust in your brand. Building trust is one of the key components for

moving leads along the sales funnel

AND it helps to increase engagement, win-win. When you build a following of people that trust and believe in what you do, they can be more likely to support your posts, whether through liking, sharing etc. which again, can give you more visibility in newsfeeds and engagement from new leads. 
Different Types of Content
What works in social can be personal to your business and can be affected by the current trends and algorithms. 
 It's important to try out different types of content to see what works and have a well-rounded strategy. 
 Here are some content ideas that can yield good results for engagement: 
Videos / live videos. Videos are still in vogue for content, they are a great way to show brand personality and behind the scenes looks, they can be fun, exciting, and engaging. Polished, pre-scheduled videos and planned and spontaneous lives all have their place.

Top Tip:

Instagram reels are a great option for short videos with high visibility.

Images: Images accompanying text, images with text, infographics, the list is long. High-quality images next to carefully written copy can create posts that people can't help but engage with. Images are great for catching the feels that you can't with copy. 

Text: Good old-fashioned text-only posts can still work, especially questions that generate discussion, polls. Etc. 

Shared content: Your posts don't have to be original, although the engagement will be going direct to the original poster. These can still bring in extra traffic and followers that can help engagement on your own posts, past and future. 
Advertising
 You can still get lucky sometimes, but most social media platforms are now very much pay to play. It's hard to get traction organically without investing in ads. Facebook has a handy ads manager where you can set ads up yourself for Facebook and Instagram, but it may be worth outsourcing a freelancer if you don't know what you are doing.
 Top tip: If you are setting up Facebook ads you can add a button so people can send messenger messages directly to your staff in the Xeno app. 
Xeno and Engagement
 Epic engagement rates are glorious, but what is your endgame? You want to attract leads online, convert new customers and increase retention rates, right? 
 When engagement is good, and your follower count is growing you are going to generate new leads. They may have questions about your products, which price plan is best for them, how do they book a trial etc. Xeno has multi-channel capabilities with the most popular social platforms such as Facebook and Twitter so prospective leads can contact your staff without having to leave their favourite apps. Omnichannel link.  And this works two ways as well as your staff can reply to all platforms and mediums from one place, the Xeno app!
 And once you have converted customers Xeno assists you with providing exceptional customer service, onboarding etc. to improve customer satisfaction and keep more customers.
Wrapping it Up 
 So, there are some turbo-charging tips to take your social media game to the front of the race. Careful research, planning and monitoring can get you good results. Find what works for your brand and keep on optimizing.
Get a demo of Xeno today to see how it can help your business on multiple levels.