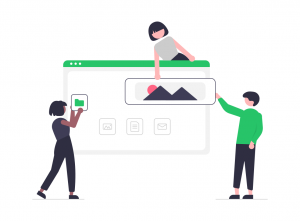 Xeno has numerous customization options to help you seamlessly integrate it into your business workflows and make it your own. 
You can use these customizations to tailor it to the needs of your business, individual team members and your customers, from scheduling support hours, meetings or language translation, to designing custom paths for your customers to follow once they start a conversation.
Let's take a look at the flexibility Xeno offers: 
Chatbox 
The Xeno chatbox is highly customizable with a WYSIWYG (what you see is what you get) editor. This means you can instantly see any changes you apply as your customers would see them, saving you time and frustration. 
You can customize a plethora of things, including: 
The color of: the chatbox header background, the chatbox header title, the chat bubble and chat text.  

Button size.

How you reply to users.

Showing a welcome bubble to visitors.

The amount of time before your welcome bubble is displayed. 

Chatbox

: name, button image, position. 
"Live" mode customization options: Window title, greeting message, and if no one on your team can answer, you can enable an inquiry that automatically asks for an email address.

"Delayed" mode customization settings: offline display, window title, greeting message.

12 backgrounds. 

Over 50 language translations, for customers and staff.  
Messages
Your brand voice is important, that's why we give you the option to customize your greetings messages, canned responses and manually and automatically triggered messages. The Xeno chatbox will also automatically translate your text into 54 languages depending on the location of the user.
Automated Communication
Xeno has a wide range of automated communication options that you can choose from to fit your needs. You can set up your chatbox to automatically open, send messages to visitors, conduct surveys, display top bars and much more.
You can use automated communication to:
Open the chatbox.

Send a teaser message. 

Ask a qualification question. 

Conduct a survey.

Send emails. 

Display a topbar

Push a dialog. 
These features can help you to welcome visitors to your page, let them know you are there to help, offer tips, collect lead information, help with onboarding, increase conversion and more.
You can customize the text of these messages, how many times they are shown and what allows them to be shown. Once you have these dialed in, the message will be sent without you having to do anything. What's more, you can set up auto-messages to be sent in online and/or offline mode.
Avatars
Xeno gives you the option to include an avatar in live support conversations. This is a super important feature for modern businesses, helping you to offer a personalized service online. 
You have the option to set-up an individual avatar for each team member or one for your whole team and you can include real life images or specifically designed illustrations.
Auto-Translate
Xeno's auto-translate feature enables you to talk to customers in their native language. Auto-translate currently supports 54 languages. Once the feature is enabled Xeno will translate your team members words into the language of the recipient and vice versa, giving you the flexibility to offer support worldwide. 
Meetings 
Xeno's "Meetings" feature stops the tedious back and forth of trying to organize meetings. 
Customers may not want to talk to an agent straight away, or there may not always be an agent available.
With "Meetings", customers can book a call or even a face-to-face meeting with an advisor automatically, without even having to speak to a team member.
And there are many customizable options to adapt this feature to your needs. You can choose:
Type of meeting: you can change

meeting types,

depending on the schedules of your employees, such as a telephone call, product demo or video call. 

Location: meetings can be online or in person.

Duration: How long the meeting lasts. Will it be short and sweet or more in-depth?

Time zone: As an online business you may have customers all over the world. The Xeno Meetings feature automatically adjusts depending on the location of the person choosing a meeting time. 

Meeting descriptions. 

Which team members you invite to be at the meeting. 

Staff availability.  

How to book meetings. There are several options: from a dedicated webpage, manually during conversation, through conversation flows, from the chatbox home screen and team members can book meetings from their end too. 
Knowledge Base
Xeno has a high-quality knowledge base that can assist your business in many ways including:
It's a source of information for customers that like to self-serve and would like to research or answer some questions about your product before making a purchase. It's also a great place for existing customers to go that need help out of support hours.

Saves staff time as they can link to relevant Knowledge Base articles in live chat conversations. 

It consolidates important information about your product into one place and is organized and easily searchable for leads, customers, and staff members.  
With Xeno's WYSIWYG knowledge base editor it is simple to add and edit an entry. You can edit an unlimited number of entries to Xeno's knowledge base, and it is full of customizable options:
Post content: You can add videos, links, pictures, and you can add keywords to help users to find the posts they're looking for.

Appearance: The appearance of your knowledge base is linked to your chat box customization features. You can customize the color, background and favicon and these settings will be mirrored in your knowledge base. 

Categories and sub-categories: Separate your posts into different categories for easy organization and navigation.

Language:  Thanks to our multilingual tool, you can translate your posts into many different languages for customers all over the world
Post-chat questionnaires
With Xeno you can create surveys to send to customers after your conversations to help improve customer service and optimize your business overall. 
When creating these surveys, you can build them how you like, depending on your needs. You can choose from:
Yes – no questions. 

Rating questions. 

Open-ended questions. 
You can also send more than one survey to a visitor to your site, if they answer the first survey, you can send another automatically, and so on. And you can customize the order the surveys are sent in.
Scheduling
You can tailor Xeno to offer live support on a timetable that suits your needs. Scheduling will automatically turn live chat off or on, based on the settings you choose. The option is also there to offer 24/7 support, although this is not a viable option for many businesses. 
There are two types of scheduling that you can customize: 
Live chat scheduling: set when live chat will be available across a brand. 

Scheduling for team members: Set when team members will be invited to join new chats.
If you would like to schedule times based around your companies' working hours, no problem, have team members working different schedules, part time or international? You can schedule that too. 
Notification Settings
Notifications help your team to stay on top of new developments, but too many or those that are irrelevant can be distracting and waste time.
With Xeno you can customize notification settings for each individual team member.
The following notifications can be customized:
General notifications. 

Conversation notifications. 

Messages notifications. 

Contact notifications. 

Meeting notifications. 

Knowledge base notifications.

Automated communication notifications.
Team members can also choose how they receive notifications: 
Smart notifications: The way you are notified changes, based on whether you are logged into the xeno app on a web browser, on your phone or not at all.

Web browser notifications: received in your Xeno notification center. 

Push notifications: delivered by your phone

E-mail notifications: delivered by email. 
Conversation Flows
With Xeno's conversation flows you can build customized conversation experiences for visitors. Create unlimited automated flows for each situation that may arise and customize them to suit the needs of your business and customers, with the option to customize how they are sent, triggered and more. 
Conversation flows can help to:
Reduce costs. 

Increase ROI.

Increase customer satisfaction. 

Increase the productivity of your team.
Wrapping it Up
Xeno has a host of customization features to make the app your own and integrate it into your business. Whether it's to match the look of the chatbox to your branding, or to customize the notification settings for individual staff members. Xeno helps to optimize your workflow for maximum success. In addition to the features mentioned, Xeno has a range of analytics for continual optimization, a self-powered CRM, collaborative team inbox and many more features to set your business up for future customer service success. Try your free 7-day trial today.