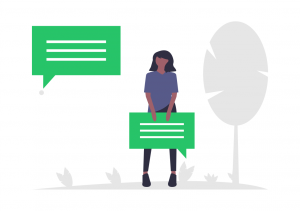 The work landscape has changed dramatically over the past year because of the COVID-19 pandemic. Companies have had no other choice but to switch to remote work as governments mandated everyone to stay home, and closed borders. 
When the COVID-19 first shut down in-person businesses in 2020, it took quite a while for some teams to get a hang of working together short or long-distance. But, employers and employees slowly saw a positive shift in attitude towards remote work. According to a study conducted by PWC, "83% of employers now say the shift to remote work has been successful for their company". 
For businesses that are continuing to operate remotely, especially for companies in advanced economies where remote work has a higher potential (McKinsey), there is one thing that they can't live without: live response software.
Customer Service
Imagine a tool that allows your business to be available to your customers every minute of every day. It would allow you to answer their questions, direct them to the appropriate pages on your site, and help you make more sales. That's exactly what live response software, and more specifically Xeno, does!
With a live response software like Xeno, you can offer your customers a jam-packed tool that does all that through the help of Xeno's features! Xeno's chatbot can be programmed to converse in small talk, you can tweak pre-designed flows through the Conversation Flows feature, and of course, mix and match automated and manual communication. Conversation Flows are our most powerful feature to date, so make sure you're getting the most out of it! 
Xeno's collaborative inbox allows you to work on a customer query in a collaborative way with your teammates. You can even set up tags and assign team members to specific conversations to make sure they are redirected to the right person, able to handle the situation right away! On top of that, Xeno's Inbox has the ability to integrate with your social media pages so all incoming messages can be viewed and answered through just one platform–Xeno.
You can also equip your team and customers with unlimited amounts of information in your Knowledge Base. It is the FAQ part of your website, or the collection of posts that can help your visitors or your team understand different subjects of yours. 
Sales
Xeno allows you not only to provide top-notch customer service, but also helps you increase your sales by providing a personalized and human exchange between your customer and your customer service agent. 
Good customer service helps convert leads into paying customers by taking the time to answer their questions, recommending products and services, and ultimately showing your customers that they can trust you. Xeno even allows you to send files to each other, request a screen share session, or even opt for a video call with your contact! These features help you nurture your lead to make sure the situation ends up as a sale, and more importantly, that your customer turns into a recurring one!
Live response software like Xeno goes even further, and can also help you learn about your customers in order to create better products and services that they will be more eager to buy. Xeno offers several after-contact features like post-chat surveys to send to your contacts, analytics for your Conversation Flows to know what works and what needs to be tweaked, and a self-powered CRM with an automatically-generated contact list that everyone on your team can access. That way, the customer is truly at the heart of your business!
Team Organization
Live response software has been crucial in helping remote teams operate smoothly since the beginning of the pandemic. And, going forward, it will continue to be a game changer thanks to all of the organization it provides teams with.
With Xeno, remote teams have access to a collaborative team inbox where everyone can access contacts, conversations, and other crucial information. Collaboration is at the heart of Xeno, meaning that teams can work together to get their contact the best answer possible, in the least amount of time. This is specifically possible thanks to Xeno's internal messaging feature. 
One of Xeno's strengths is that it works in tandem with all of your favorite third party apps for remote team management such as ticketing systems, CRMs, Project Management tools, and many more. So you won't miss a beat when integrating Xeno into your team's practices!
Ready to give Xeno a try? Contact us today for a free demo!