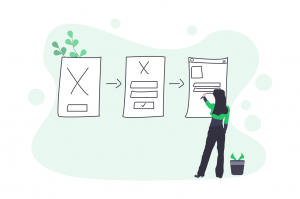 When employing chatbots to help manage customer communication, it is common to have reservations about using them. We are accustomed to thinking of robot communication as choppy and unnatural.
However, the truth is, technology has come a long way and most of the time, chatting with a chatbot can seem like you're chatting with a real person. In fact, you may not even know when you are talking with chatbots!
What is a conversation flow?
The key to good communication when using a chatbot lies in designing its conversation flow. The conversation flow is a series of responses programmed to create a natural exchange of ideas between your chatbot and your customers.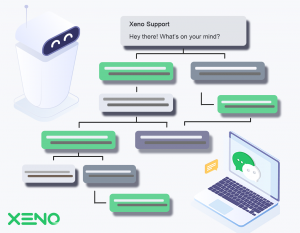 Depending on the product, it also allows you to call on native in-app features to provide a seamless experience to you and your contacts. It is then very important to properly plan the way your conversation flow works in order to come across as natural and inviting to your customers as if they were talking with a live person.
When the chatbot has the potential to be the first contact a potential customer has with your business, you want it to leave a good impression. To do that, you can set up your chatbot to provide conversations that work best for your brand.
In fact, with Xeno, you have unlimited conversation flows. That means you can plan for practically every scenario imaginable. Every customer is unique and has different needs, and we get that. That's why we encourage you to make as many conversation flows as you need!
How to make the Conversation Flows feature work for you
Brainstorm a list of questions or issues your customers might have and start there. Then, expand upon each question. Know what answers you want the chatbot to give and what follow up questions would naturally come next. You tell the chatbot what to expect and it will take it from there!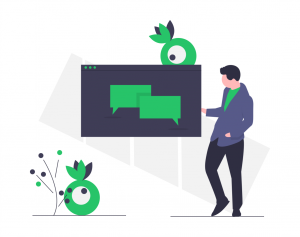 You don't even have to worry about small talk. Our chatbot is programmed to ask and answer questions that come up at the beginning of conversations. For instance, it can talk about the weather or even ask your customer about their day. That means a better conversation experience for your customers!
So, once you have your conversation flows setup, you can sit back, relax and let the chatbot do the rest of the work for you! From providing small talk to tackling language barriers and providing 24/7 assistance to your customers, the chatbot will take care of everything else when it comes to customer communication. 
That means you are free to work on more important aspects of running your business!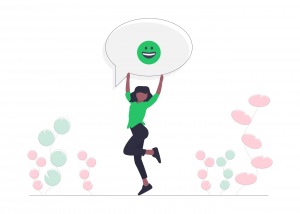 We specialize in customer communication here at Xeno. That is why we know better than anyone how far good communication goes to furthering your business goals. That's why we prioritize helping businesses like yours provide effortless communication.
The best part is, our multilingual chatbox is only one of the countless features we offer! Learn more about the other features of Xeno such as knowledge bases, collaborative inboxes, and so much more to see how much easier running your business can be!