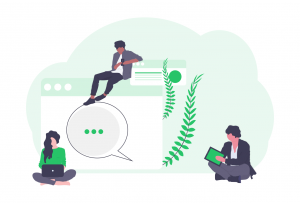 E-commerce is thriving right now. Customers want to be able to order what they want, whenever they want it. They want to be able to research their own options, make a purchase and get an item the next day or even on the very same day.
However, sometimes they need help, and they don't always want to self-serve. Live chat puts the personal touch back into online shopping: customers can instantly connect to support agents and receive 1 on 1 help, or, if they prefer, they can get an enhanced self-serve experience with epic features such as a Knowledge Base and automated chat box replies.
There are an abundance of applications out there to help you run your e-commerce business: from scheduling tools to CRMs. Xeno's Live Support software is one that you do not want to overlook. With a customizable and multilingual chatbox, file-sharing capabilities, a range of analytics and more, it's packed full of features that can help to increase customer satisfaction, lead generation, conversion AND customer retention. 
Let's take a closer look:
Live Chat
Adding live chat to your website is the perfect way to put personal service back into a heavily automated world. 
Using Xeno's chatbox, visitors can instantly connect to support agents that are able to offer a one-on-one personal service,whatever the customer's needs.
Live support offers a speedy service, with customers able to connect to agents in a matter of clicks and with a well-organized app such as Xeno your agents can easily talk to multiple people at the same time and still offer an optimum service. 
A study from the Customer Contact Council found that one of the most important factors for increasing customer retention was reducing effort. Xeno can certainly do that: your customers can sit back whilst an agent helps them out, and special features help to keep things simple For instance, qualification questions allow your team to find out more about the customer before the conversation has even started. Xeno topics will allow customers to be routed to the right people in the right department, in order to save time on all fronts. , Our Omnichannel features mean that customers can get in touch with you across a number of different platforms, seamlessly:Xeno offers compatibility with Facebook, Twitter, iOS, Email and more. 
The Xeno chat-box has a professional finish and can be placed on the web pages of your choice, where they can be customized to match your branding and are visible to visitors but not in your face.
Conversation Flows
Are you looking to offer round-the-clock support to your customers? How about setting up Conversation Flows to help answer all types of customer queries, be it during the day or at all hours of the night: e-commerce never sleeps. 
Conversation Flows allow you to control how conversations with customers are handled. Conversation flows are basically paths for your customers to follow, depending on what they're looking for. These paths are made up of steps, of your choosing, depending on what you'd like to offer your customers. 
Conversation Flows allow you to call upon different Xeno features, such as the Knowledge Base (that we'll talk about a little later), the Meetings feature if need be, and so on. 
The goal of setting up Conversation Flows is to save time, and ultimately save money, and help your customers out, no matter what their use case, no matter where they are in the world. 
If you'd like to know more about Xeno's Conversation Flows, feel free to book a demo with our team.
Surveys
Without accurate data, you are fumbling in the dark running an e-commerce business. With Xeno post-chat surveys you can ask customers directly what they think about the experience you provide and your business.
It's simple to create surveys with Xeno's editor, you can add qualitative and quantitative questions including star ratings, yes-no and open answer questions to get useful opinions from customers.
Knowledge Base
Customers don't always want to be helped personally, with Xeno's knowledge base you can put all the need-to-know information about your products in one place so that existing and potential customers can help themselves when shopping online. 
Agents can also refer to the Knowledge Base during live support conversations. Linking directly to posts from the chatbox. It's quick and simple to build informative posts with Xeno's WYSIWYG editor so you know how they will look once posted, with the option to add keywords, authors, categories and more to keep it all organized. 
Automated Communication 
Xeno allows you to automate pre-written messages to be delivered to customers at different points throughout their journey.
These messages can have a number of triggers such as time on site or even the country in which your customer is situated.? There are several types of messages to choose from, depending on your goals, E.G., teaser messages that pop up from the chat box to generate conversations / let customers know you are there to help, topbar messages to deliver important information, there is even the possibility of forcing the chatbox to open according to specific conditions, for a more direct approach. ! These features can help to increase sales, helping to reduce shopping cart abandonment or customers that are about to leave your site before getting their answers, whilst keeping existing customers informed of new features and offers and improving their experience with your product, and your company.
Analytics 
Along with surveys, analytics can help you piece together your customer service puzzle. What's working, what isn't? Which staff members are performing well and who could benefit from a little  extra training? Is your response time quick enough? And so on. Xeno Analytics can be they eyes and ears of your company when it comes to optimizing customer satisfaction, as Xeno offers a wide range of different analytics including analytics based on conversations (resolution time, average response time, etc.), based on team members, based on contact satisfaction, and even based on your Knowledge Base, to see which searches were successful and which were not, for instance. 
Automatic Identification for Contacts 
Knowing who your clients are can help offer a number of benefits to your business:
It helps you offer a personal service automatically, without having to ask for details, earning you extra customer service points.
It lets you know where the customer / lead is in the funnel, meaning you'll be able to  direct them to the right department, and agents can adjust their approach accordingly. E.g Is the visitor an existing customer, are they a lead, are they qualified? Should they talk to a sales rep or a support agent, etc.
Xeno's technology allows you to automatically identify incoming contacts. They are identified as soon as they open a chat. Contacts can be identified by their email address, and all information you have on a specific contact is automatically displayed in conversations, so it's all where you need it, when you need it.
Topics
One of the key things to an excellent customer journey is keeping things simple. Your e-commerce business may sell lots of different products or there might be a number of different departments that customers can connect to when they use live support. With topics, customers can choose which area of your business they need help with. The benefits for this are two-fold: your customers and your staff can benefit from this feature. How? 
Topics allow you and your team to offer better customer service as your staff can thoroughly understand customers' needs. Topics can also reduce effort on the customer's side, as they allow customers to quickly connect to the right department to help them in the first instance and they don't have to repeat their issues, as mentioned earlier. This can also help to increase FCR rate.
Topics can be divided into sub-topics to really narrow down a customer's needs. For instance, if you are an Electronic Hardware Store your main topic could be computers and your sub-topic could be chargers, maybe even with a choice between the different brands of computer. 
Predefined Responses 
There are certain questions that are going to come up again and again when in live support conversations. Predefined responses can save your staff time and help them offer optimum support to multiple customers simultaneously. You can set up responses for simple phrases such as "Thanks for your purchase" or craft ones that are a bit more complicated, thanks to the predefined responses feature. You can then call upon any one of your predefined responses at any time in a conversation, at the click of a button!
Multilingual Chat Box and Automatic Translation 
One of the benefits of running an e-commerce business is that the entire internet is your oyster when it comes to selling.Xeno has an easy-to-use auto-translation feature that can translate 54 languages. This means you can take your business worldwide without having to employ bilingual support agents. 
In addition to this, the Xeno chatbox will automatically adapt to your visitor's language, depending on their browser language, making it that much easier for them to navigate!
File Sharing 
When imagining the word chatbox, you may just have visions of plain boring text, but no, with Xeno, you can send a multitude of different file types between agent and customer and vice versa. The customer may want a different size of a current item so wants to send a pic, or have an issue with your software: hello screenshot! Agents can send videos and info to resolve problems and help customers to get the most out of your product. File types include audio, compressed, data, images and videos. Formats include:  PDF, DOC, CSV, JPG, GIF, and PNG.
Wrapping It Up 
Live Support can be a great option for your e-commerce business to add a personal touch and provide quality online customer support for leads and current customers. Xeno is packed with features to make life easy for your customers and staff and to help you to optimize the service you offer. In addition to the features mentioned, Xeno provides 1-on-1 screen-sharing and video calls, to go even further and offer your customers a tailored experience, a customer-oriented ticketing feature so that no problems are missed and a self-powered CRM to keep everything organized.