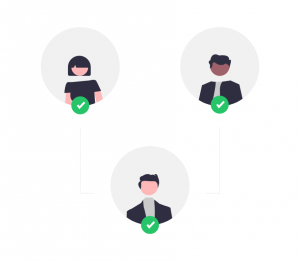 Once you are bringing leads into your business, the next step is to move them towards a sale, and convert them into actual customers.
Just to recap, a lead means a potential customer and conversion means turning potential customers into actual ones.
 To sell online, it's important to cultivate trust in your brand and your product before people decide to part with their money. And even when you have trust, there are still other pitfalls to avoid.  
In this article we are going to take a look at some top tactics for converting people from leads to customers, plus, how Xeno's live support software can help you along the way.
Before we begin: A simple way to look at the journey a customer takes from becoming aware of your business to a paying customer is the sales funnel.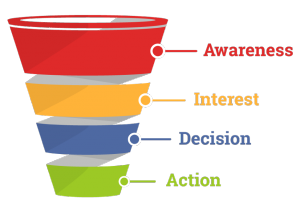 So-called because more people enter your funnel as leads than will actually buy at the end of it. Take a look at this article for a good explanation that will help you to understand the tips in our article.
Building Trust
Trust in your business has always been an important factor for selling and it's become even more crucial when shopping online. Customers want to trust that your business does what it says it does and that your product will do what it says it will: Will your product provide the benefits it describes? Will their questions be answered promptly? Will next day delivery arrive the next day? In addition to this do they believe in the ethos of your company and your brand story? 
There are a several ways to build trust, including branding, marketing strategy and website optimization:
Strong, consistent branding: Inconsistent and bad branding can make you look unprofessional and untrustworthy.  
Incredible customer service: Excellent customer service can help to turn unsure leads into customers, improve customer retention and get people talking about your business. Making customers feel special and going out of your way to give the best possible service all earn trust points here. 
A high-quality website: A website that loads slowly with poor user experience can make you look unprofessional and give the impression that you don't put your customers first. A fast site that is easy to navigate displays that you know what you are doing and that you value your customers. Bonus: it also reduces the chance that customers leave your site or abandon purchases due to frustration.
Content Marketing: Yes, content marketing can help you out at multiple stages of your sales cycle. :).  Well planned content is a great way to build trust in your brand. You can use it to:

Show that you are an authority in your market: If you are an expert in your field people can be more likely to trust your opinion and products.
Show that you understand your target audience's pain points.
Tell your story: Why was the company founded, how the product helped you if it's relevant etc. 
Behind the scenes looks: These can help to show that you are human too.
Xeno and Building Trust: Xeno's chatboxes have a professional finish and can be customized to match your company's branding. They stand out on your webpages without being too overwhelming. With Xeno you can offer an extremely high level of customer support, leads can be instantly connected to a support agent in just one click where they will get 1-on-1, personal service. 
Helping Customers in the Decision phase
 Once potential customers have chosen to buy a product then they have to DECIDE who they will be getting their product or service from. It's important at this point that they have all the information available that can help them to make this decision. Comparison charts on your website of the different packages you offer or types of products can help here, an FAQ section and having staff available to answer any questions asap can help to push a sale over the finishing line. 
 Xeno and Decision Making: Xeno live support software provides a direct line of contact for your staff to assist customers in the decision-making phase. In conversation, your staff can properly understand the buyers needs and advise accordingly. They may have questions about product features, different packages etc. Xeno also has screen sharing and video calling functions which can be used to give demos of products or talk buyers through using the product themselves, whilst customers that prefer to self-serve can visit your knowledge base if they would like to find the answers to questions themselves.  
Reducing Cart Abandonment
You've built trust with customers, recommended a package / product that suits their needs and they've decided to make a purchase, great, right? Unfortunately, there are still some mistakes to avoid that could lose you a sale and abandoned carts are one of them, responsible for a large amount of lost revenue every year.
What are abandoned Carts? When shoppers have placed products in their online basket, but for multiple reasons, they don't actually go through with the purchase. 
Reasons for cart abandonment include a confusing site layout or poor user experience, unclear delivery charges, last minute questions, or maybe that your customer had to tend to something else, they got distracted and forgot, and so on.
Some ways to reduce abandoned carts: 
If you have contact information, a follow-up email or even a drip campaign can help to turn abandoned carts into sales.

Clear FAQs.

Good user experience on your website.

Remarketing.

Social proof.

Exit intent pop-ups. 
Xeno and Abandoned Carts: Placing the Xeno chat box on your checkout page can help to reduce abandoned carts for your business. It's a simple way for customers to get instant help with anything that may be preventing them from checking out. You can even use the automated communication features so that the chatbox opens automatically when a customer arrives on the page or after a certain amount of time.
Wrapping it Up 
That's the second part of the series wrapped up, hopefully by now you have a better understanding of how to generate leads and then how to turn them into customers. Xeno is an excellent tool to help take people from interest to purchase and has many features that havent been mentioned to help you get the most from your live support, including: auto-translate, a self powered CRM and conversation continuity.