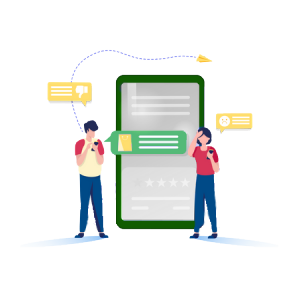 Having an online presence alongside brick-and-mortar stores is almost essential these days. One can compliment the other, helping to bring in new customers, retain existing ones and upsell on individual purchases. Online ordering can work in tandem with in-store browsing, whilst collecting in store options increases store footfall.
Adding another customer service tool to your digital strategy such as Xeno can have additional potential benefits. Live support combines the speed and efficiency of digital with old school personal service. You can provide personal, instant customer service 24/7, important information to customers that like to self-serve in your Knowledge Base, let them know about new features and encourage conversation with automatic communication and much more.
Let' s take a closer look:
Live Chat
Live chat is a great way for existing and potential customers to get instant, personal but virtual customer service for a wide range of needs.
As a retail store your customers could benefit from using live support online at home and in-store.   
Online
When shopping online visitors to your website may have questions about your products, require assistance in choosing the right item, problems with existing purchases and more. In some cases, getting their issue solved could mean the difference between finalizing a purchase or your customer leaving your site and going to a competitor. 
With Xeno, customers can connect with a support agent in a couple of clicks. Once in a conversation, your trained agents can offer a tailored service to suit the needs of each individual customer. You can offer this service 24/7 if you like or collect visitor details so that they can be contacted ASAP.
In-store 
Live support can also help to take the pressure off your staff in store and offer a self-serve option to customers. If all of your staff are busy, customers can connect to a live support advisor through an in-store computer for help. Or they can use Xeno's Knowledge Base to answer any questions they have by themselves. If they would like to order different sizes or colors etc. of items they have seen in store, the assistance of online advisors is right there if they need it.
Live Chat and Your Team
Running a live chat service can get stressful and confusing without the right features. Xeno has lots of these to help your support team to work efficiently and maximize productivity. This includes a self-powered CRM, and integrations with various apps such as Marketo ensure that your staff have access to the right information at the right time, whilst a collaborative team inbox and internal messages make it easy to work as a team behind the scenes.
Knowledge Base
Your customers may prefer to help themselves when visiting your website and in-store. The Knowledge base is a great way to keep all of the important need-to-know information about your products and business in one place. You can include FAQs, product info, delivery details and more here. Customers can access the Knowledge Base at their leisure or be directed during a live conversation and it can also be a good place for your staff to refresh their memories on new products etc.
You can add and edit an unlimited number of entries to Xeno's Knowledge Base, and they can be accessed through your team and self-service front end. It's simple to create new entries. The Knowledge Base has a user-friendly interface that uses WYSIWYG technology, so you can see exactly how your post will look before it's published. You can include videos, links and pictures in your posts to make them as attention-grabbing and immersive as possible.
File Sharing
File sharing is another Xeno feature to help you take your retail support service to the next level. Customers and team members can share a wide range of files whilst in conversation including audio, compressed, data, images and videos. Accepted file formats include: PDF, DOC, CSV, JPG, GIF, and PNG. Your customer may be looking for a different colour or size of a certain product so they could share an image or video to help speed up the process, team members can share educational videos on how to get the most out of products and more. Encrypted files can be sent, in a totally secure way.
Topics
You want your live support service to be as quick and easy for your customers as possible, whether they are connecting in or out of store. With Xeno you can create different topics that users can select relating to their issues before they engage in live chat conversations.
These topics help customers to talk to the right people that can help them with their queries, which can help to increase customer service speed, reducing the need for repetition and hopefully increasing customer satisfaction overall. 
Topics can also be divided into subtopics to get a precise idea of what your customer is looking for. For instance, if you own a clothes store the main topic could be women's clothes and the sub-topic could be shoes. You could even go as far as giving them a choice between flats and heels!
Topics can help to make things easier for your staff as well as your customers, as each team member will be able to stick to their job role, and not be distracted or waste time dealing with areas they are not trained in.
Automatic Meetings
Customers may not always want or be able to resolve issues immediately. With Xeno you can set up meeting scheduling directly from your chatbox, without having your customers connect with advisors. On the other hand, your agents can book appointments with customers when requested during a conversation, or even from the Meetings interface directly. 
You can customize the type of meeting booked with options such as online, one-to-one face to face, you can also customize your availability and connect Xeno to your Outlook Calendar or Google Calendar, so Xeno can check your availability in real-time and only offer up time slots during which you're free!
Xeno's automatic meetings help to save the frustrating back-and-forth of organising meetings and ultimately save you and the customer time.
Customer Surveys
Keeping your live support strategy optimized can help to ensure that you are giving customers the best possible retail customer service, making the most of resources and helping your business. In addition to a range of analytics Xeno offers post-chat surveys so you can ask your customers directly how well you are doing, what they like and what they don't. 
You can build surveys with yes-no, open ended and star-rating questions to help you to gather a wide range of information that you can use to optimize your processes.
Automated Communication
Create automatically-triggered messages sent from the Xeno chatbox, topbars or emails based on specific conditions or contact info. These messages can help to improve your customer experience and generate new customers. 
You can easily program alerts to capture visitor's attention, email marketing automation and more. For instance, the checkout page can be an area where visitors often have questions or get stuck, a pop-up message here letting them know that agents are available to help if needed could help to reduce abandoned shopping carts.
Wrapping it Up
When it comes to retail software, adding live support to your business can be a great way to increase consumer satisfaction in and out of store. Xeno has a myriad of features to help you keep satisfaction soaring and make life easy for you and your team. In addition to the features already mentioned, Xeno provides chatboxes that have a professional finish that do not distract from your website but are still visible, a self-powered CRM to keep customer data organised, collaborative team inbox for optimum collaboration behind the scenes and more.