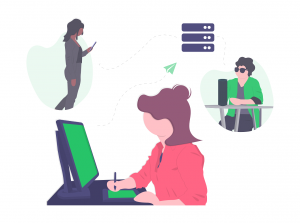 In case you are still unaware of it, real-time customer communication is the customers' favorite channel. Indeed, 42% of your leads and customers would rather communicate with your team via live chat than email (23%) or social media (16%).
Although instant messaging is used by small and medium-sized businesses to go the extra mile with customer communication, many companies struggle to make the most out of any live response tool.
This article will give you 4 tips to turn your website customer chatbox into a real customer magnet.
It is easier than you think! Just remember the acronym C.H.A.T.:
Customize, Humanize, Automate, and Trigger.
Customize
The first thing you should do when deploying a customer chatbox on your website is to personalize it. Make it your own!
Build a dialog box that matches your corporate identity; personalize the color and the image that appear in the bottom-right corner of your visitors' screen.
Also, why don't you try adapting the auto-messages to the tone of your brand?
Besides, your interlocutors would love to talk with you in their own language. With Xeno, you can enable more than 20 languages, which will automatically match the language of your visitor's browser.
There are tremendous possibilities to create a chatbox that reflects your corporate image. Make good use of it.
Humanize
With the recent expansion of chatbots in the field of customer service, your visitors need to be reassured that there is a real human behind the screen–someone who understands their needs and quickly resolves their problems.
You can easily put your customers at ease by choosing to display pictures or avatars of your real face. This will definitely humanize the customer experience.
Moreover, displaying your job position—next to your name during a conversation—can help your leads and customers know who is helping them, and what your team member's speciality is.
During a chat, don't be afraid to talk casual. A chat is way more enjoyable when you use GIFs and emojis.
All these simple tips will help your leads and customers feel like they are in a brick-and mortar-store full of smiling, helpful sales assistants.
Automate
We know that real-time customer communication involves time and effort. Hopefully, we've got a solution: automation!
For example, by using chat dispatching, you can ask the visitor what they want to talk about before the actual conversation. This will automatically assign specific team members to the conversation, according to the scope of their responsibilities.
Furthermore, you can set up a bot to handle your external communication when you are away from the keyboard. This Smart Sales Assistant will take the shift automatically according to your team's timetable.
By setting up a smart communication system, you can smoothen your flow of messages and help each member of your team focus on their main tasks.
Trigger
Last but not least, you have to be proactive.
If you have ever been a seller in a shop, you know that the number one rule is to greet every single person who crosses the entrance. What's worse than walking into a store and not feeling welcome?
It's the same online. Your leads and customers expect you to be by their side throughout the entire buying process. So, feel free to inform your visitors that you are there for them, with the help of small messages that can automatically appear wherever you want on your website.
This is a great opportunity for you to start a conversation with absolutely any lead, while humanizing your customer experience.
C.H.A.T. Is the Answer
Whether you are just getting started with live response customer communication or have been using an instant customer messaging app for a long time, make sure you follow these 4 simple rules: Customize, Humanize, Automate, and Trigger.
So, what are you waiting for? Go C.H.A.T with your customers!