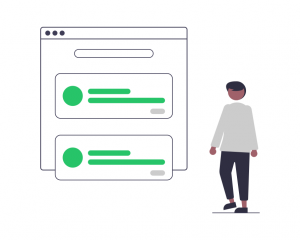 Ok we might have been pushing it with the last P, but stick with us!
On-point onboarding is essential for running a successful online business. Good onboarding strategy helps to give a solid first impression to your company and introduction to your product, increases customer satisfaction and decreases churn.
Good onboarding shows customers how to use your product, but great onboarding makes sure that it solves customer pain points and makes it more likely that your product becomes an essential part of their business process, hopefully turning them into long-term, loyal customers.
Here are 3 of the main points to cover to make sure your onboarding is impeccably on-point:
Planning 
The first step to successful onboarding is setting goals. Without these you can end up spinning your wheels in the dirt with no direction or way of measuring success.
Thinking about your general goals for onboarding is a good place to start. These may include things such as:
Teaching customers how to use your product, 

Showing customers how to get the most out of your product, 

Guiding customers towards their 'Aha moment*'.

Forming a habit of use. 
* A customers 'Aha moment' is when they realize that your product has value to them, ideally you want to lead them to this during onboarding and subsequent times throughout their journey with your company. 
General goals can be a great starting point but making SMART goals can help you to crystallize specifics and set deadlines so things are actually achieved.
SMART stands for :
S

pecific 

M

easurable 

A

chievable

R

elevant 

T

ime-Bound
E.g. Onboarding Smart Goals could include things like:
4 app sign-ins per week for each new customer in their first month. 

70% 5-star satisfaction rating for your onboarding process. etc.
Now you have your goals crystallized, how are you going to get there? 
It's important to find what works personally for your business and your target audience, but popular onboarding strategies include:
Email campaigns:

Email is a popular method for guiding your customers through onboarding. It can be automated according to certain time period or action triggers. E.g., a welcome message when customers first use your product or daily messages for new customers in their first week of purchase. This means you can run onboarding while you sleep! You can include many different file types, video walkthroughs etc. and link out to further resources such as your

Knowledge Base

for those that like to self-serve. Emails are easy to personalize by splitting your list into segments and tailoring campaigns accordingly.
Customers will also be expecting your messages so open rates are likely to be high. And for SaaS companies it's a way of connecting with customers without relying on them signing into your app. This in turn can remind them about your product and lead to higher usage. 
Pop-ups / auto-messages

– Pop-up messages that guide users through their first time using your product or at strategic points can be automated to help customers without any input from you.  

Video tutorials / product walkthroughs.

Pre-recorded tutorials and product walkthroughs can be a good option for those that like to self-serve, professionally finished videos with your branding can also help to increase trust in your company. 

Virtual or on-site training:

As nice as it it is to have everything automated, there is still value in live training, whether this is done virtually, through video chat or screensharing for instance, or in real life, it offers a chance to give a highly personalized service, ask questions and for your staff to go the extra mile to make your customers feel welcomed and valued. 
Knowledge base / FAQ's:

A comprehensive

Knowled

g

e Base

on your website that covers the main questions asked about your product or service in an easy-to-understand way, can be great for self-servers and your staff. Customers that like to sort things themselves can use it instead of asking for help and those that like help but have an issue outside of support hours can use it when they want things sorted ASAP.
You can direct customers to your Knowledge Base throughout the onboarding journey and product use, share links in emails and your staff can share links in live support conversations to save them time, to save you money and increase customer satisfaction for those that prefer that way of working, win-win.
"Offer clients ongoing services or resources, such as ongoing training, quick troubleshooting checklists, or a monthly consultation to review other challenges they face. Make sure to notify clients about these services during the onboarding process"
Patel says there are two advantages to this. You can charge extra fees for these services, and they build trust in your company as a good source of information, hopefully increasing customer retention further.
Personalization 
One of the secrets to good onboarding is personalization. Different customers are going to have different needs and different features of your product may benefit some more than others. If you can tailor your process so that each customer gets the most out of your product you can increase customer satisfaction and reduce churn as it is more likely that your product becomes an essential part of running their business.
Here are some ways to personalize your onboarding:
Segment your onboarding journey:

One way to personalize your process without having to offer a bespoke service to every customer is to split them into segments and create an onboarding process for each segment. This is a popular strategy used for email campaigns too. Again, it will be personal to your business and your goals as to what works for you, but you could segment based on factors such as:
How long have they used your product for?

What level of membership they have (if you offer a tiered system)?

When they last logged in?

Ask them:

Asking your customers questions is a great way to segment, show that you care and give info to help your staff help in onboarding

Ask customers their goals for using your product?

Ask how they would like to be communicated with? 
Give different options for learning:

A customer's learning style is personal, offering different ways of onboarding helps to offer a tailored learning program, make things easy for them and make them feel special. E.g., Some customers may prefer to learn in their own time by themselves, others may like to schedule in-person training sessions, some may like a mix of self-serving and personal support.  
The Personal Touch:

Addressing customers by name in the digital world is not really unique anymore but it still helps to add a personal touch to using your product, use customer names where you can to show customers that they are not just a number. Other things such as personalizing your CTAs in emails, throughout the product etc. can also contribute. 
Depending on your budget, your industry and a customer's preferred method of learning, 1-to-1 telephone / video calls and even in-person meetings can help you to tailor the onboarding process for each customer. This can help them reach their goals, make them feel welcomed and valued AND increase your retention rate. 
Identify where customers come from:

It's important to know how customers came to your business in the first place so that you can personalize onboarding from the very start. Customers are likely to come from lots of different locations, such as email, social media marketing or Google searches. When you know this, you have a better idea of what customers already know, what their needs are, what to tell them and what not to. 

Gamification.

Turning things into a game can help to make your product feel personal for users, a progress bar that shows their individual progress in the onboarding journey, relevant stats about their usage so far etc. can work.
Relevance, relevance, relevance:

Only show users information that they personally need to know, keep it specific. Showing them how each step helps them personally earns extra points.
Xeno and Personalization 
Looking to personalize your onboarding, Xeno's got you covered:
Auto-messages:

Instead of using pop-ups throughout your process you can program auto-messages that come direct from the Xeno chat box. Customers can start a 1-to-1 conversation with support agents directly from this message. You can customize your chatbox and messages to fit your company branding and set specific triggers for the messages such as a help message when your customers analytics page is visited or a welcome message when users first sign-in to an app or use your product. 

Live, 1-to-1 support:

Customers can connect to advisors for personal, 1-to-1 support, anytime, in one click. What's more personal than your own dedicated advisor helping you through onboarding? 

Meetings:

If customers don't want immediate help, they can schedule an appointment with your staff without annoying back and forth communication. With Xeno's meeting function customers can pick the best day and time to schedule a meeting in just a few clicks, straight from the Xeno chatbox or a webpage.
The feature syncs to calendars such as Google or Outlook to ensure that there are no double bookings and customers can see instantly the time-slots available. 
Knowledge base:

For those customers that like the option of helping themselves, Xeno has an epic knowledge base feature where you can add an unlimited number of posts that can be linked to in multiple situations, such as in support conversations and email. 
It's simple to add entries to Xeno's knowledge base with its what-you-see-is-what-you-get (WYSIWYG) editor which shows you what your posts will look like before posting. Plus, you can add information such as keywords, authors, categories and more to keep things organized and optimize the user experience.
Conversation continuity –

If a live support conversation ends unexpectedly and you have the contact's email address, Xeno can send an email to the contact so that the conversation can be continued seamlessly. Effort and stress are reduced for the customer and they won't have to repeat any information that is needed by staff to personalize their service. 
Multiple learning options:

To cater for different customers' onboarding and support preferences, Xeno offers video call and screen share options, without having to download any application on the customer end. As well as two-way file sharing of any file type, audio, compressed data image etc. Need to share a product video walkthrough or setup instructions? No problem!
Opinion 
As with all things digital marketing, it's important to keep your onboarding strategy optimized. You can use analytics and data that you collect but in addition to this you can simply ask your customers for their opinion. This should give you a clearer idea of what can be improved, and you can double down on what is already working.
Xeno post-chat surveys are a great way to ask for feedback on your onboarding process and any other areas of your business if you wish. You can also use them for feedback on each individual support conversation so you can keep your satisfaction rating super high.
It's simple to create post surveys in Xeno with:
Star-rated questions. Customers can rate things on a scale of 1 – 5. E.g., How satisfied are you with the onboarding process or the service you received in this call? 

Closed-ended questions, with Yes-no answers. 

Open-ended questions: Allow customers to give a more detailed answer.
Bonus Onboarding Tips 
Here are some extra tips for the journey home.  
Keep it simple

: Don't confuse customers with irrelevant information, make sure your user experience is optimized, with clear CTA's and direction. 

Make it easy to get help:

Is it clear where your customers go to get help and how soon do you respond? Have you made them aware of your Knowledge Base? The Xeno chatbox sitting in the corner of customers screens is a good example of this. You can also customize the look of your chatboxes so they aren't too in your face, but at the same time customers know they are there!
Xeno, Onboarding and Your Staff
Xeno makes life that much sweeter for customers during onboarding, but it also keeps things organized and optimized for your staff so that they can provide the best possible service and get a high level of job satisfaction in the process, nice right!? Auto-ID helps them to offer a personal service as they know who they are talking to, without even asking. Whilst internal messages and a collaborative team inbox helps them to work together with other staff behind the scenes. All contact from your customers is consolidated into one place, the Xeno app, so staff can reply to emails, live support messages, SMS and more from one location. Chat history helps them to see where customers are in the onboarding journey and provide help accordingly. Finally, the customer-orientated ticketing system helps staff to stay organized and ensure that customer issues don't go unresolved.
Wrapping Up
As with all online strategies, having a strong understanding of your audience, planning, and personalizing what you do can go a long way with onboarding, finding what works for your company personally.
Once you have things moving, AB testing, analytics and customer feedback are your friends to keep things optimized and get the most out of your strategy.
Xeno is the perfect companion to onboarding, helping you to offer personal service, a comprehensive knowledge base and keep on top of what is working and what isn't.
In addition to this it's chock full of a host of features to make it simple to integrate into your operations and optimize its use, including a range of analytics to let you know how well your team are doing and give you brilliant data to help you make bright business decisions, a 54 language chatbox with auto-translate for each language so your staff can support customers worldwide without speaking more than one language, a self-powered CRM that automatically adds all of your contacts to an enriched address book, and integrations with other popular apps such as Marketo, Stripe and Zapier. Book a demo today.