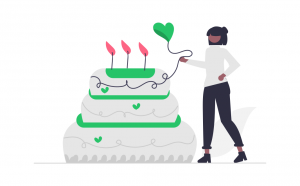 Nearly everyone loves cake, and you can guarantee a tasty, well-made cake will keep your friends and family coming back again and again to the cupboard to grab a slice. 
Much like the tasty cake, you want customers to keep coming back to your business again and again. 
And you can't make a good cake without the right equipment and ingredients. So we've put together a list of some of the tools and ingredients that can help you to make your business sweeter than sweet and increase your customer retention:
1 x Top-Notch Onboarding System 
Onboarding can have a big effect on your final bake (customer retention rate), especially with complicated SaaS products. Good onboarding does a superb job of introducing your customers to your product and teaches them how to get the most out of it. Poor onboarding can leave customers feeling confused and unsatisfied, and they may go elsewhere.  E.g  An online retailer that has just purchased live support software but does not have the budget to provide 24/7 support. This client may benefit from setting up an auto-message in their chat boxes letting their customers know their service hours and an email address to send issues to in the meantime. If the retailer isn't made aware of this service or how to set it up in onboarding then they will not be getting the full benefits the product has to offer. This can decrease customer satisfaction and the chance that they may take their business elsewhere. . 
Here are some tips for creating an epic onboarding system:
Planning:

Much like baking a cake, good preparation can set you up for success. It's important to consider your overall customer journey, your target audience and buyer personas amongst other things when planning. 

Personalization:

Tailoring your process to meet the needs of individual customers can help them to use your product with ease and get the most out of it. You wouldn't bake a dinosaur cake for your grandma, or a wedding cake for your sister's birthday. And some features of your product won't be relevant to all users. 

Opinions:

It's important not to operate in a vacuum with onboarding and all aspects of customer service. One of the best ways to find out what customers want and what will keep them is to ask them! This can be done easily using post-chat surveys in Xeno, but more on this later!
A Generous Serving of Community 
Building a community around your product can help to increase customer retention. It can be welcoming for new customers, a place to network with others and help people to feel part of something. It can also help to create brand advocates, superfans of your brand that champion your product whenever they can, helping to increase trust in your brand and give you some free marketing! 
Sprout Social offers some top-notch tips for building community, including: 
Solidify Brand Identity:

You need to get your brand in order before you start building a community to make sure that you attract the right people. If you don't know what your core values and goals are then how will they?

Defining Goals:

Having a plan can help you to stay focused and organized when building a community. Some things to think about include: the reason for building your community, how you will grow it and keep people engaged. And also how do these goals tie in with your wider business goals?

Choosing a platform:

There are plenty of options for building an online community. Depending on the type of business you run and your needs, you could set up a Facebook Group or Twitch Channel whilst Discord is also growing in popularity.

Engage:

Once you have your platform ready to go and you have put the word out, you need to think of ways to engage your community and a reason for them to get involved. 
1 x Cup of Honest feedback 
It's tough to get good at baking if you don't have honest feedback about how well you are doing. How do you know what to improve? Or which type of cake to try next? The same applies for business. Gather customer feedback so you can find out what they like, what they don't and what they would like to see more of. Post-chat surveys are great for this, more on this later.
The Secret Ingredient: 1 x High-Quality Live Support App 
High-quality live support software can help to bring your recipe together in multiple ways. It can complement your onboarding process, help you to build community and gather feedback: 
Optimize your onboarding:

Customers can instantly connect, 1-to-1 with support agents in just one click, whenever they need help with Xeno. You can even offer this 24 hours a day if you have the budget. You can also set-up automatically triggered messages to help customers out at strategic points in the onboarding process and more! This will depend on your product, but you could use auto-messages to talk customers through their settings or analytics pages when using SaaS products for example. 

Communication and Community:

With Xeno you can communicate across many different platforms such as Facebook, Twitter, iOS, and Android without having to leave the app. This will help you to support your community and marketing campaigns with a high customer service speed. 

Gathering Feedback is Easy:

You can collect feedback using easy to create post-chat surveys. You can choose from open and close ended questions and star ratings. 
Bonus: Reducing Effort: A survey by the Customer Contact Council found that one of the top factors for increasing customer loyalty was reducing effort and Xeno certainly does that. You can use pre-qualification questions* to ensure customers speak to the right members of staff in the first instance so they don't have to repeat themselves, increasing your FCR rate. Customers can choose from a range of options for solving their problems, whichever they find easiest! Including screen sharing and video calling. Plus, you can easily build a knowledge base for those customers that find it easier to help themselves rather than explain their issues to a member of staff.
Wrapping it Up
Hopefully we've given you some culinary tips to take your customer retention rate from an undercooked flop to a Patisserie delicacy. It's important to find out what works for you and your business as it's not a one size fits all approach, so get in the kitchen and start baking.
If you would like to make Xeno live support part of your customer retention strategy, try it today.