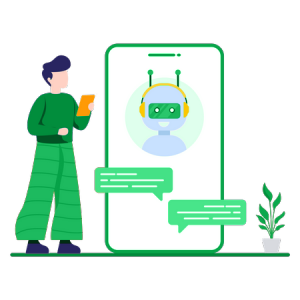 Nowadays, it may seem like everyone is using live response software on their websites. Everywhere you look, you see chatboxes and buttons that promise to connect you with a live team member.
The truth is, lots of businesses are using live response to step up their sales game and you could be, and should be, using it, too!
Here's why:
Keep Up With Competition
As more and more businesses add live response technology to their websites, your own site might start having a hard time keeping up. It is expected that by 2022, around 85% of businesses will have opted to add live chat to their website (Software Advice), and 63% of people spending around $250-500 monthly online will be more likely to purchase from a company offering live chat (Kayakoo).
Think about it: if your competition offers a way for customers to ask questions, get support, or upgrade their orders via live chat, but you don't, why wouldn't customers choose them over you? 
Another reason why businesses are adapting Live Response is that it can convert visitors into leads, which would then, potentially, turn into revenue. 79% of customers prefer to use live chat to ask companies questions as they're looking for an answer right away (Invesp). On top of this, live chat improves conversion rates by 3.84%. (Software Agent) 
Businesses add live chat not just for the sole purpose of converting during the negotiation of a sale, but also before negotiation and after a sale has happened. For example, through Xeno's Live Chat software you can use our Conversation Flows to set up a whole path for customers to follow, made up of different steps. You can, for instance, send an after-contact survey and allow your customers to rate your business and give their feedback. This allows businesses to nurture their contacts and improve their performance based on contact satisfaction. 
If you make all of these things more accessible on your site via live chat, you can start keeping up with your competitors! Plus, it puts you miles ahead of other websites that have yet to start using live response.
Increased Customer Satisfaction
When you install live response software on your website, you are going to see an increase in customer satisfaction for a multitude of reasons. Just make sure to always have all hands on deck as poor live chat experiences creates frustration with your customers. This can either be achieved through manual live chat conversations, or even with automatic communication in place, or both!
As customers are on your website shopping, they have the chance to get their questions answered immediately! They don't have to wait around for a response to an email or for someone to pick up the phone. In fact, Magellan GPS noticed a 55.8% decrease between 2013 and 2015 in phone call costs by introducing live chat. That also means quicker sales, which is another bonus! 
Plus, it gives you the chance to get to know your customers in one way or another, and vice versa. Through live response, you're able to give your customers a personalized and seamless customer experience which, in turn, gives them a positive impression on your brand. What do your customers need to know in order to feel comfortable in making a purchase? What do they want to know about you?
In time, you will begin to learn about the different ways you can meet these needs before they even arise! This creates a memorable customer experience and can even help create repeat customers.
Increased Sales
Perhaps the number one reason everyone is turning to live response software is because it helps increase sales!
Not only can it help you answer customers' questions immediately, but it can help you walk them through the buying process until it is complete. This means you can assure your contacts that your product or service is exactly what they need, and demonstrate how it works by inviting them to a video call, or a screen sharing session through Xeno. 
Not to mention, live chat gives you the opportunity to up-sell or cross-sell some of your other products or services, thereby increasing the average amount you sell!
What's not to love about that?
Conclusion
No matter what benefit interests you the most, the bottom line is: your business benefits from live response software!
The best part is that live response software isn't hard to install or use. In fact, software like Xeno makes things even easier with a chatbot programmed with Small Talk to do all the groundwork for you. Xeno offers pre-defined Conversation Flows, too, for different use cases that you can just tweak as you need. You can make your own Conversation Flow from scratch if that's what you prefer, with infinite possibilities. Xeno's Knowledge Base also allows you to upload and share unlimited amounts of information that would help not just your customers, but also your live chat support agents! 
If you're ready to give it a try, schedule a demo with Xeno today!