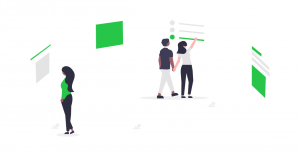 Once you are bringing in new leads and converting them to customers the next step is keeping them, or in fancy terms: customer retention. This could be customers coming back for repeat business or keeping subscribers if you provide a membership / subscription service. 
Customer retention has a myriad of benefits. It can be markedly cheaper to retain old customers than to attract new ones and happy, existing customers can help your marketing efforts with word of mouth and can even reach advocate level. Whilst depending on your business model, keeping a healthy number of customers while also bringing in new ones can be a strong recipe for growth.  Research done by Frederick Reichheld of Bain & Company (the inventor of the Net Promoter Score) found that increasing customer retention rates by 5% increases profits by 25% to 95%.
Let's take a look at some customer retention strategies and how Xeno can help you along the way:
Reducing effort
Customers like things to be easy. A survey by the Customer Contact Council found that one of the biggest factors for increasing customer loyalty was reducing effort. If your website is hard to navigate or your product is too hard to use, then customers may get frustrated and go elsewhere. A simple user interface, strong onboarding (more on this later) and clear help available around every corner can all help here.
Xeno and Reducing Effort
Xeno has lots of features to make life easy for your customers.  Customers can have instant 1-to-1 access to support advisors in one click, 24 hours a day if you wish. 
Everyone has different preferences for communication and Xeno's features help you to be super flexible. You can explain as you go with screen-sharing, connect on a deeper level with video calls and link to your Knowledge Base if customers would prefer to help themselves but just need pointing in the right direction. 
Whilst instant translation for 54 languages through Xeno's chat boxes takes your customer support global and widens your market.
Impeccable Customer service
Providing good old-fashioned customer service is still a solid runner in the customer retention race and it offers oodles of other benefits. Here are some strategies for providing high-quality service:
Understanding your customer's needs: How can you exceed a customer's expectations if you don't know what they are in the first place? It's important to research your target audience and get feedback from current customers: customer interviews and post-chat surveys are useful here. More on this later. 
Well-trained staff: You are only as strong as the team around you, hiring the right staff and giving the right training can help to ensure that customers get an exceptional experience.

Emotional intelligence

especially is a skill to focus on. 

Good response times: It's important that you value a customer's time and don't leave them waiting for long periods of time.
Omnichannel support: Today, there are so many communication options available, it's important for a customer to be able to contact you effortlessly across multiple mediums and even change the method halfway if they wish. 
Xeno and Customer Service
Xeno has everything you need to go the extra mile for your customers and make them feel special. Personal 1-to-1 support means you can treat everyone like a VIP. 
Whilst features such as the consolidated team inbox make it easy for staff to stay organized and give each customer the attention they deserve while managing multiple chats. The customer-oriented ticketing feature ensures that no issue goes unsolved as you can mark messages from contacts as resolved or unresolved. In addition to helping customers it also benefits your support staff, Xeno: 
Reduces email exchanges by up to 48%.

Reduces incoming calls by up to 80%.

Boosts team productivity by up to 30%
Finally, Xeno integrates with a range of customer channels including Facebook, Twitter, iOS and Android so customers can use their preferred platforms and your staff can communicate across all multiple channels from one place: your Xeno workspace. 
Improve Onboarding
Onboarding, another fancy term which basically means welcoming people to your business and setting them up to use your products and get the most out of them. If your business were a cruise ship (boarding, see what I did there), onboarding would be giving new visitors a tour of the cruise ship, recommending activities they might enjoy or food choices based on their personal preferences, a gym induction, who to speak to if they need help and generally setting them up to get the most from their trip. When people join your business, you want to do the same. A poor onboarding process and lack of support means that customers may not get the most out of your product, or understand how to use it at all, risking them walking out the virtual door.
There are a number of ways to improve onboarding:
Tailor it: Each customer may have different needs for your product and how they implement it in their business could be very different. Personalizing your onboarding process helps them get the most from it and gets extra customer service points too.  
Give enough support: At this stage it's important to give enough guidance to customers and to make it very clear how to contact you if they need help. 
Monitor feedback: Use customer surveys, complaints, and analytics to see which strategies are having the most success and continually improve your onboarding process. 
Xeno and Onboarding 
Live support is a superb addition to your onboarding process. Xeno's chatboxes have a professional finish and are designed to stand out on your web pages without being distracting so customers always know where to go for help. You can also set up automatically triggered messages to be sent to customers according to defined triggers, E.g. When a customer logs in you can ask them if they need any help. You can offer tips, updates and more this way. 
Auto-ID can be used by your staff so they know who they are talking to without even having to ask and can personalize their support, whilst post-chat surveys help with providing the best possible service, which leads us onto:
Customer Feedback   
When designing and optimizing your customer retention strategy it's important to be guided by what your customers actually want, not just what you think they want. The best way to find this out, ask them! 
Surveys are your secret sauce, whilst user testing focus groups and customer interviews are other tools you can use here. 
Xeno and Customer Feedback. 
Xeno is a great tool for collecting feedback. You can easily set up post-chat surveys with qualitative and quantitative questions. There are those unnecessarily long words again:
Quantitative results:

expressed in numbers. These questions are great to gather objective information which is easy to analyse such as: How many times a week do you use our product?

Qualitative results:

descriptive, expressed in words. These can be used to gather opinions, get a deeper insight into your target audience and help to generate new ideas etc. E.g. How can we make our product better? 
Xeno's post-chat surveys have the option to use open-ended questions, close-ended questions and rating questions and a range of analytics to keep on top of important stats like your Net Promoter Score (NPS) and more. 
You can also perform customer interviews using Xeno, in text or video calling and your agents can gather feedback in conversation when dealing with customer issues on a day-to-day basis. 
Finally, Xeno also has a wide range of analytics to help guide your live support strategy, including First Contact Resolution Rate (FCR) and lots of others. 
Wrapping it Up
That's the end of part 3 of our 'Growing an Online Business for Beginners' series, hopefully you now have a better overview of some of the top ways to keep more of your customers. Giving your customer a good introduction to your product, keeping things easy for them, and asking them how you are doing regularly can all help.
Be sure to check out the 'Generating Leads' and 'Converting Customers' sections if you haven't already. 
There are many more in-depth articles on our blog when you are ready to take things further. And make sure to test out different approaches and find what works for you. 
Don't forget, Xeno live support software is the perfect companion to selling online and your customer retention strategy, making life better for you, your customers, and your staff at all stages of the customer journey. Request a demo today. 🙂