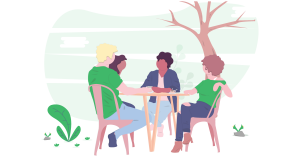 Are you struggling to get your lead generation off of the ground? Attracting leads online can be frustrating. But did you know, as well as upping your customer service game and helping to increase conversion, live support software can assist you in this process. And Xeno comes with some shiny features to make this easy. 
Let's take a look!
Clean Professional Branding
First impressions count, and an amateur looking website can put people off from the start. Xeno chat boxes have a professional finish and can be customized to match your branding so they don't overpower your page, but customers will certainly know where to go if they need help.
You can customize the look of your chatbox with custom colour codes and avatars, change its size and position on your website, and even decide which cards to display on your chatbox home screen. This allows contacts to interact with the services you offer directly from the chatbox itself: they can check out your FAQ or book a meeting with someone from your team for instance without having to move from the chatbox itself. You can also design custom cards, where the only limit is your imagination. 
Lead Qualification Questions 
There can be a number of benefits to qualifying your leads. With qualification questions, you can start qualifying  potential leads before the conversation has even begun. We recommend a maximum number of 3 qualification questions, to avoid friction with your customers.. And of course, once a conversation is started, advisors can find out more about visitors in a conversational and natural way.
Self-Powered CRM 
It's important to keep your contacts and contact information organized when generating leads and moving them through the funnel. With Xeno's self-powered CRM, all of your contacts are automatically added to an enriched address book, which means that your team doesn't have to waste time entering information. All that is left for you to do is sort and segment your contacts. There are even powerful integrations with other apps such as Marketo to keep your data consistent across all channels.
Auto-ID
Knowing who you're talking to you can be extremely helpful in live chat support. Xeno's Auto-ID feature automatically identifies your contacts by their first name, last name, or any other details you'd like. You can also choose to have your contacts' IDs automatically inserted into live chats, helping advisors to tailor conversations accordingly. If they are a new lead, what are their needs? Which package would suit them etc.? Existing customers, how can you help them? Make things easier, etc. 
Wrapping it Up 
So that's it, did you realize live support could help with lead generation as well as many other facets of your business? In addition to the fab features mentioned above, Xeno comes with a range of analytics, post-chat surveys and super handy features like conversation continuity so you can carry on conversations by email if they end on your website.