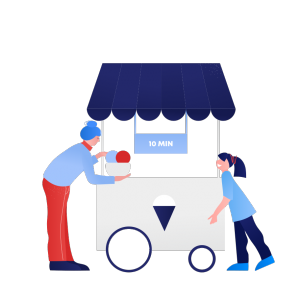 It's that time of the year again, shorts and flip flops are out, BBQs are fired up, and mostly, people are moaning about it being too hot, haha.
And you know what's a great way to cool down, ICE CREAM! 
Did you know that there are many similarities between running an online business, and a thriving Ice Cream Truck? Many of the strategies that keep customers queuing for those sweet treats can be used to help you sell online. And Xeno has a heap of features to help you out along the way. 
So, grab a tub out of the freezer and have a read:
Being Polite / Epic Customer Service 
Any ice cream person worth their salt(ed caramel swirl) is polite, serves with a smile and has quality small talk. If there are two rival ice cream trucks at the same beach car park, with one known for being rude to everyone and one that is genuinely friendly, who do you think the customers will choose?
It's important to be polite and personable in any business, online or by the beaches. Live support software is the perfect tool to help take your customer service game to the next level and increase consumer satisfaction. With Xeno you can set up automatically-triggered messages such as welcoming greetings and helpful tips to reach visitors from defined triggers. And what's more polite and personable than a 1-to-1 support chat or video call with your own advisor? Thanks Xeno. 
Marketing Masters
Ice cream truck owners are expert marketers, putting signs up by the steps off of the beach to let you know they are there, setting up at a prime location, they even have their own tune to let people know they are coming!!!??? They let people know that there is ice cream to be had, and it works. 
When it comes to your online business, your emails are the tune of the ice cream van, and your blogs and social media posts, the sign by the sea. You can use them to build a customer base and let people know that you are selling. 🙂 
Xeno has a number of features and integrations to help support, organize and optimize your marketing including a self-powered CRM and multiple communication channels including Facebook and Twitter, and staff can send and receive messages, all in one place, the Xeno app.
There is also a Marketo integration that helps you to coordinate your marketing efforts across both platforms and maximize the number of leads you take from interest to purchase. 
Wrapping it Up
I bet you hadn't noticed the similarities between an ice cream truck and your online business before? However, lots of principles are transferable and Xeno can be the flake to your 99 when it comes to selling online, in addition to the sweet features mentioned, you can also benefit from screenshots, 1-to-1 video calls and a range of analytics.