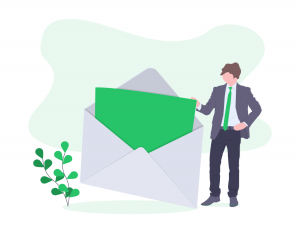 Have you started building an email list yet? Which strategies do you use as part of your marketing process? There are lots to choose from, but email can still be a powerful marketing tool. It gives you control to talk to leads and potential customers on your terms, you can laser focus the content of your messages for personalization, and it could help with all areas of the sales funnel, generating leads, conversion and customer retention. 
Let's take a look at the potential benefits in more detail:
Getting Personal 
Emails can be a great way to deliver targeted content to your subscribers. You can segment your list based on lots of different qualities and tailor your content accordingly. Delivering relevant content to subscribers can make it much more likely that they will open your emails and engage with them. You can send as and when emails or make them part of much longer drip campaigns. 
Building Trust 
It can be hard to sell online without trust. Nurturing relationships with leads over time, providing value and proving your worth, before trying to sell, can be an effective strategy for online selling and email can be a great way to do this. With email you can take the time to plan out campaigns that develop relationships with leads and customers, and get them checking their inboxes for your next message. 
An Important Part of Omnichannel 
Emails can play an important part in an Omnichannel strategy. Did your customer leave your site without purchasing? An abandoned cart email could help to recover otherwise lost revenue. Did a live support conversation end unexpectedly? You may want to continue the conversation by email. Email is another tool to add to your Omnichannel experience that could help you to get new customers, taking them from interest to purchase and keep existing ones.
Smart Tip: With Xeno's conversation continuity feature you can continue live support conversations by email helping you to keep your customer journey smooth and seamless. 
Email Marketing and Xeno
Xeno live support software has some lovely features to assist your email marketing strategy, in addition to conversation continuity there is a new Marketo integration, customers can send emails when no live support agents are available and live support agents can get lead information in conversation to help grow your list. 
Wrapping it Up 
Using Email Marketing can have multiple benefits for your business and can work well with other strategies. Investing in Xeno can help you tie all of these together and provide numerous benefits for your staff, customers and business overall.