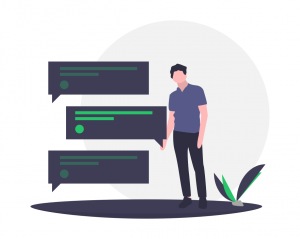 Have you ever thought of customer service as an artform? It's a bit out there but bear with me. When you look at a good painting, you don't see the individual lines, you see the picture as a whole, if you listen to a well-known song, you don't just listen to the cymbal by itself and ignore the rest, again you see it as whole. This could be a good way to think about customer service, especially an Omnichannel experience. Does your customer have an experience that is disjointed and incohesive or does it flow effortlessly from one point to the next, so much so that they don't even notice. 
Utilizing an Omnichannel experience involves providing a seamless experience across multiple channels and platforms continuously. E.g., if a customer contacts you via social media and they want to continue the conversation over email they can do so, without having to explain their issues again or talking to someone new.
There are a number of potential benefits to adopting Omnichannel:
Customers Have Their Favorites
Customers may use many different platforms for communication and have their own personal favorites. With Omnichannel you are covering a lot of bases by offering multiple choices for contact which makes it much more likely they will be able to use their favorite, which could help you to increase consumer satisfaction, the magic here is that it can be done seamlessly, which leads me onto my next point.
Removes Repetition
With Omnichannel customers can switch between channels seamlessly, without noticing the joins. In a survey by the Customer Contact Council it was found that one of the biggest factors for increasing customer loyalty was reducing their effort.  A large amount of effort is removed by Omnichannel as customers don't have to repeat themselves, catching up agents on their issues every time they use a new platform. Which means that using it could help you to lower churn!
Saves Staff Time 
A well-oiled Omnichannel machine could actually help to make your staff more productive and efficient, as they can communicate over multiple platforms seamlessly and simultaneously.
This can be supported greatly by using a quality live support software that is full of features that help your staff to stay organized and work together such as Xeno, more on this later.
Customer-Centric
Providing an omnichannel experience makes everything about your customer and how they would like their journey to go. This can come with numerous benefits, aside from the above-mentioned increased satisfaction and reduced churn, it could also make your marketing efforts more efficient and cost effective. You can specifically tailor your marketing for each stage of the customer journey, and it means you don't have to start afresh on every platform. E.g. If customers abandon a cart on your website, you can retarget them with a Facebook ad or Email.
Omnichannel and Xeno 
Xeno's live support software has many features that can help you to provide an epic Omnichannel experience. With conversation continuity you can seamlessly continue a conversation by email if a livechat ends unexpectedly, there are integrations for Facebook, Twitter, email and more, whilst staff can send internal messages to each other behind the scenes so they can easily collaborate to provide a service where you can't see the cracks. 
Wrapping it Up 
Omnichannel has lots of potential benefits waiting for you if you are thinking about giving it a try for your business. Aside from all the features Xeno has to help get you to get on top of your Omnichannel service it has many more to make life easy for your business and its staff. This includes a range of analytics to monitor what is and isn't working, a 54 language chatbox so that you can take your business worldwide, and post chat surveys so you can listen to customer feedback and much more.