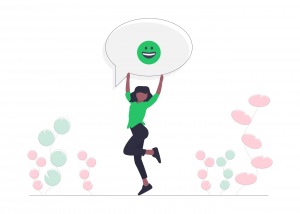 Good customer service is a key component of any successful business strategy, get it right and you could nurture brand advocates, increase conversion and lower churn, whilst getting it wrong can be bad news. 
Live support software can be a great compliment to your customer support strategy, giving instant, 1-to-1 advice to customers 24/7, if you want to. And Xeno has some handy features to help you give the best possible customer experience when using live support.
Let's take a look!
Knowledge Base
Customers don't always want to talk to someone else to sort out their issues, they may prefer to solve it themselves, or don't want to wait for an advisor to be available. Xeno has a knowledge base feature that your customers and staff can access independently when needed. You can create and edit an unlimited number of categories and posts, and it's accessible from different locations. The Knowledge Base can also be used in a conversational way during and exchange between advisors and customers. Your team members can call upon any Knowledge Base post in any given conversation, straight from the Inbox page. 
Surveys
What's a good way to find out customer opinions and see where you can improve? By asking, of course! 🙂
In Xeno, you can create post-chat surveys with qualitative and quantitative questions to optimize the service you provide. You can choose from Yes/No, open-ended and rating questions.  
Qualification questions
Qualification questions allow your team members to gather information on an incoming customer even before a conversation has started. This means they'll have all the relevant information they need in order to give the best response possible to your customer. Qualification questions can include identifying questions such as "What's your name?", "What's your business name?", or even more detailed questions. These can be configured on a dedicated page of your Xeno workspace. We recommend using a maximum of 3 qualification questions, in order to avoid friction with your contact, however the choice is up to you, depending on your business's needs. 
Analytics
In addition to surveys, analytics can give you a good clue about how you are doing with customer service and other areas of your business. Xeno has a range of analytics to monitor performance and to help you to make good business decisions. This includes team member analytics, conversation analytics, knowledge base analytics, and more.
Omnichannel
Keeping things simple for your customers and reducing effort can have many benefits, helping to reduce churn and delight customers. Creating a seamless Omnichannel experience allows customers to talk and continue conversations over multiple platforms, Xeno has got you covered here with Facebook, Twitter, email integrations and more. 
Wrapping it Up
Live support can be a great addition to your customer service strategy, helping you to take more visitors from lead to customer, more customers from interest to purchase and delighting them after sales thanks to Xeno's full feature stack. .  Xeno is full of personality and has the skills to rock this role, add Xeno to your team today.