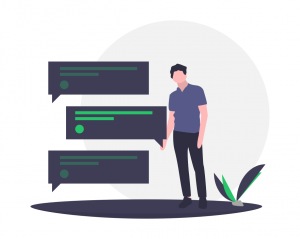 Having loyal, returning customers is a goal of many businesses. But how do you ensure a customer will be back to buy your goods or services again?
The key lies within a good customer retention strategy. Making customers feel special is the best way to leave them wanting more from your business.
There are many different ways to increase consumer satisfaction and they all revolve around being there for your customers and their needs.
Ask For Their Feedback
First and foremost, your customer retention strategy should involve customer feedback. This is the fastest way to learn what needs to improve in your business, as well as what you are doing right.
Not only will it help you manage your business better, but it will also make your customers feel heard. Customers love being heard and feeling like their feedback counts for something.
Make sure you have a way for customers to leave reviews, as well as a way for them to ask questions, complain, or provide other forms of feedback. Xeno offers a Survey feature, that lets you do just that. They can leave specific feedback for your team, and if need be, you can reach back out to contacts to let them know they're being listened to! 
 Reward Them
Customers also love a good reward and when its a really good one, they are more inclined to come back and make a purchase even if they hadn't planned on it.
Think about it. The last time you received a coupon for your birthday or for reaching a certain number of points, didn't you scoop up your reward right away? And weren't you excited about it? 
The answer is probably yes. Whether you decide to go with a loyalty reward system with points or just an automated coupon system for purchases over a certain amount, a reward system will encourage customers to keep shopping with you and they are great for making customers feel special.
 Stay in Touch
Something all of these customer retention strategies have in common is that they help you stay in touch with your customers. Besides just asking for reviews and sending coupons, establish a line of communication so everyone can stay up to date.
This could be in the form of newsletters, regular social media posts, or even postcards and phone calls. No matter what you chose to use, make sure that it is accessible by as many customers as possible.
You can use this line of communication to promote sales, new products, and so much more. Not to mention, it can't hurt to remind your customers that you're still there.
Check out Xeno's Triggered messages feature. You'll be able to set up different types of messages, allowing you to reach out to your contacts and help you keep in touch: be it a pop-up message from the chatbox to generate conversations, or even an e-mail aimed at a specific group of customers, you're bound to find something to your liking.
Always be Available
One of the best ways to establish a good line of communication is to always be available for your customers, even if that means being available around the clock.
Live responses and chat boxes are the best ways to keep customers coming back for more because they know that their concerns will be addressed right away and they know exactly where to go. If you're concerned about the time this would take up, you shouldn't be!
Technology like Xeno makes it easier for businesses to provide great customer service by managing ongoing feedback, issues, service requests, and so much more. Live response is the quickest way to guarantee consumer satisfaction and any business can provide it.