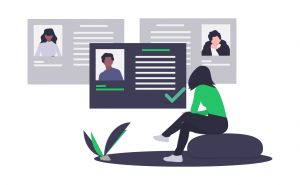 When it comes to hiring online, you want the process to be simple for applicants and your HR team. Xeno live support software can help make this process efficient and stress-free. With a host of features to help you provide virtual HR, from video chat for interviews, to direct appointment booking, a knowledge base and more. 
Let's take a closer look at the features that could help you here:
Video-Chat
With Xeno's video chat feature you can interview applicants directly from the app without the applicant or your staff having to leave the house. 1-on-1 interviews are easy thanks to Xeno. You can also use the screensharing function during said interviews if needed. 
Organizing Meetings 
Applicants can organize meetings directly from the chatbox home screen, to allow applicants to book an interview based on their, and your, availabilities. Members of your HR team can also send meeting invitations during conversations with said applicants.
Auto-messages 
Xeno isn't just about live chat, there are several auto-message functions that you can use to advertise the fact you are hiring, such as messages, emails, top bars, alerts etc. Display a top bar based on specific conditions, for instance, to let your visitors know there's a job opening. This will get the word out a lot faster, and speed up your recruiting process.
Knowledge Base
Xeno allows you to create a Knowledge Base full of any information of your choosing, you can fill it with documentation relating to recruitment, for instance. You can include images, videos, texts and links. Applicants can access this on their own time, and you can share links to your Knowledge Base during live support conversations. 
Proactive Contact
Xeno allows you to proactively contact applicants. You can manually send them a message straight from Xeno, in the click of a button. This could particularly be useful after an interview if you'd like to get back to them. You don't have to switch to your usual email provider, you can do it all from your Xeno inbox. The applicant will then receive your message either as a chat message or an email. If they reply, you'll get the response right in your Inbox. Simples. 
Clean Design
It's important that a chatbox be easy to use and have a professional finish. User interface and experience are important over here at Xeno, so we have taken the time to design a chatbox that is both easy to use and appealing to the eye. The only thing applicants have to worry about is whether or not their resume is up to scratch. And your staff can concentrate on choosing the right applicants instead of guiding them through the process.
Pre-qualification Questions 
With Xeno you can start to gather information about applicants before even starting a conversation with pre-qualification questions. You can ask for names, email addresses, telephone numbers, for instance, and this information will be fed directly into your database. This will help to streamline your recruitment process further. 
Fill Your Live Support Vacancy 
If you are looking for a hardworking and efficient member to join your team and assist with virtual HR, look no further than Xeno. Xeno is full of features that can help to make hiring online the smoothest of processes for applicants and members of staff alike, with a self-powered CRM, collaborative team inbox and analytics. Make Xeno part of your team today.