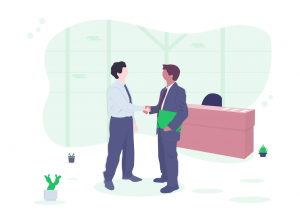 Ever wanted to have the simplest hiring process ever? Does the thought of having easy, to-the-point exchanges with applicants bring a smile to your face? When it comes to hiring, you want the process to be easy for everyone: your applicants, and your HR team. Xeno's live support software can help make this process efficient and stress-free. With a huge array of features that allow you to provide online HR services: from video chat for interviews, direct appointment bookings, and even a knowledge base. After reading this, you'll never look back. 
So, to the point: how can Xeno help you, as an HR department? Let's take a closer look. 
Xeno offers Conversation flows that allow you to build your own ideal recruiting process. You can build conversation flows that will allow you to call upon Xeno's different features, in order to create the ideal path for your applicant to follow, while on your website.
Let's look at which features you could use in your very own Conversation flow, to streamline your hiring process.

First things first, how does a potential applicant find out that your company is hiring? You want to get that information out there, directly on your website, for them to see. This is easily done thanks to Xeno's triggered messages feature.
Teaser messages
Xeno makes it super easy to configure pre-written messages that you can display to any group of your website visitors. You could, for instance, set up the chatbox to open automatically after a certain amount of time, with, inside, a message letting your web visitors know you're hiring, or that you're looking for a certain type of person to join your team. This message would, first of all, attract attention to your chatbox, generating more conversations, and would also let potential applicants know that you're hiring. Two birds, one stone, as they say. 
Ok, so now your potential applicants know you're hiring. What's the next step? What should we show them now? They probably need more information about what the types of jobs you're offering. This is where we can call upon the Knowledge Base in your Conversation flow.
Knowledge Base
Your Knowledge Base is basically a hub of information regarding your professional activity. It holds the information that would be useful to web visitors, potential customers, and even potential applicants to specific jobs you're advertising. This is where visitors can come and check out everything you do. Xeno's Knowledge Base allows you to either import or write out different articles, so as to allow your leads or customers to find information independently. 
The Knowledge Base is easy-to-use thanks to its user-friendly interface that uses WYSIWYG technology, meaning you have an instant preview of what your post will look like once published to your public Knowledge Base. You can include videos, links and pictures in your articles, making it as interactive as possible.
In your Knowledge Base, you can post information about specific jobs in your Knowledge Base, thanks to its categories. You can easily create a Jobs category, and stock all information on the different positions you offer, for your visitors.
Thanks to your Conversation flow, the Knowledge Base will automatically be displayed to your visitor. They can then search through your documentation and most importantly, through your job offers. 
So now, your potential applicant has checked out your Jobs category, in your Knowledge Base, and has decided to apply to one of your advertised jobs. What's next? 
Qualification questions
Right about now, you probably want to learn more about your potential applicant. They get to know everything about your job offers, but what do you know about them? This is when step 3 of your conversation flow comes into play: qualification questions. 
Qualification questions are here to help you identify an unknown candidate on your website. Thanks to this feature, you're able to ask your candidates questions that can help you gather information on them. For instance, you might need their name, email address, and phone number. These questions will be sent to your visitor, one by one, before they can even start a conversation with your team.
This information can then be fed back through to your database, automatically populating it with the information you really need on potential applicants.
After answering your qualification questions, your applicant can now get in touch with your team and ask any questions they need. They can also send you their resume and cover letter, thanks to Xeno's file sharing option. 
File Sharing
Web visitors can easily share 100% encrypted files with your team through the Xeno chatbox. An applicant can send you their resume and cover letter in a matter of seconds, thus making the recruitment process that much more efficient. Accepted file formats include: PDF, DOC, CSV, JPG, GIF, and PNG.
Booking a Meeting
Perfect, you've had a chat with your potential applicant, they've sent over their resume and their cover letter, and you're finally getting to know each other. To take the recruiting process to the next level, how about setting up an interview? Xeno's Meetings feature allows candidates or web visitors to book a Meeting with your team straight from the chatbox. You can also use the Meeting feature during a conversation: you or your team members are able to manually send Meeting requests to your visitors, or even manually set up a meeting with a contact from your side of the Xeno app, at the click of a button! 
How does the Meetings feature work? 
On your Xeno account, you can set up different meeting types: you could offer online meetings, as a first kind of interview, and then a face-to-face interview if you guys click during the video call. You can also easily set your availabilities: maybe you only want interviews to take place on Monday mornings, or perhaps you'd prefer them to be bookable everyday apart from Wednesday afternoons, it's completely up to you, and depends on how your team is used to working. 
Xeno's Meetings feature can then connect to your Calendar: be it Google, or even Outlook, allowing Xeno to check if you're in fact available in real-time. This helps avoid being double-booked, and last-minute meetings. 
How do I use the Meeting request during a conversation?
Xeno's Meetings feature can either be used independently by applicants, meaning they can book a meeting, or in this case, an interview, by themselves, without any interaction on your part, or you can use Meeting requests during conversations with applicants, allowing you to keep the power in your hands. 
Meeting requests are sent at the touch of a button, during an exchange with a visitor. They'll receive your availabilities and they'll be able to pick a date and a time that suits you both. You'll then both receive an email with a recap of your Meeting details and how to meet. An event will automatically be created in your calendar, allowing you and your team to keep track of the different meetings taking place in the week.
Video calls
Xeno video calls can be used as first-level interviews, for instance. You can easily go for a video call with an applicant, either during a conversation, or as a meeting. No download required. Easy as that. 
You can easily interview applicants without them even having to leave the house, and without having to mess up your workday. You can even use screensharing during these interviews if need be. Xeno video calls: the interviews of the future. 
Right, so about now, you've talked with your applicant, you've had the first interview, and now it's on you to think about their application, their profile, and if they fit the job description. You can find a whole overview of all of your applicants on the Contacts page.
Contacts page
Your Xeno Contacts page will give you an overview of all of your applicants. You can even segment them into different groups depending on which job offer they applied to, for instance! And if that isn't organized, I don't know what is!
You can see all of their useful information on this page, so you know exactly how to get back in touch with them, if needed. 
Speaking of, how can I get back in touch with various applicants through Xeno? 
Proactive Conversations
Xeno decided to really turn the tables on this one, changing the rules of live chat. Xeno allows you to get in touch with your applicants, from your Xeno account. 
You can actually Start a conversation from your inbox page, and get in touch with any of your contacts. Easy as 1,2,3. 
You can decide who you want to send your message to and what you want the topic to be. This message will then either be sent as a chat message or an email, depending on if your applicant is on your website or not. 
The applicant can even answer your message or your email, and you'll receive the response in your Xeno inbox. Proactive conversations can be used to let your applicant know if their application has been put through to the next round, or on the other hand, if you don't think their profile fits the job description. On your Inbox page, you can also use Xeno's canned responses, to type out and re-use specific answers to send to your applicants. 
Xeno is the perfect addition to your team if you're looking to streamline your recruiting efforts.  Xeno is full of features that can help to make hiring online the smoothest of processes for applicants and members of staff alike. Check it out for yourself!