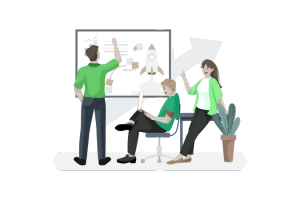 Xeno offers a wide range of features that Marketing agencies can employ to give their services an edge above all their competitors.
Between multilingual live chat, automated communication and file sharing features, Xeno has everything a marketing agency could need to capture leads and turn them into clients as easily as 1-2-3.
After all, as a marketing agency, you already have your hands full making sure everyone else's marketing is top notch. Your own business' marketing shouldn't have to suffer because of it.
With Xeno, you'll have everything you need to make your job that much easier, right at your fingertips.
Live Chat
Many different businesses can benefit from having live chat available on their websites, not just the marketing niche!
Being instantly available to your contacts is a great way to show them that you're there for them, and in doing so, bodes well for your future working relationship. Xeno's Team inbox allows you to take care of all incoming conversations, through the easily-deployed Xeno chatbox on your website, or even incoming from other channels (social media, email, the works!) 
Live chat makes it easy for your contacts to reach out, and it's reassuring knowing someone's there to help you out if you need them.
Getting your contacts the answers they need couldn't be easier! You have access to all conversations from your Team inbox page. When a conversation is opened, you have instant access to all information you have on this particular contact, at your fingertips thanks to Xeno's interface. You'll also be able to see your contact's website activity: which page your contact is on for instance, making it super easy to understand incoming questions. Xeno's Team inbox is all about collaborative assistance, allowing you and your team members to work together and go above and beyond to help out your contacts!
If you'd like to go even further, and set up specific paths for your contacts to follow once they've opened up the chatbox, feel free to check out our Conversation Flows! They'll allow you to set up specific flows for specific use cases, all while calling upon all of Xeno's different features, making it so simple to tailor the experience to contacts' specific needs!
Proactive Chat
It's always great when a contact gets in touch with you, but wouldn't it be even better if you could reach out to them  before they even knew they needed your help?
Cue Xeno! Thanks to Xeno's proactive chat feature, the power to start conversations is in your hands. You can manually open a conversation with any one of your contacts, straight from the inbox page.
Automated Communication
Using Xeno's Automated Communication feature is a great way to convey messages to your leads without having to lift a finger!
Xeno's Automated Communication feature includes different types of messages to be sent to your contacts. You can display topbars, or teaser messages, and you can even force the opening of a chatbox for a more direct approach if need be. These messages are created once, by your team. These messages are then sent or presented to your contacts based on specific conditions. You could for instance, want to display a message solely to your US contacts, or you'd like to send a message to your contact after 10 seconds on a particular page. The power is in your hands!  Working with conditions this way assures you that the right people will receive the message. It saves you and your team lots of time, and money!
Multilingual Chatbox
Xeno's multilingual chatbox can open up your marketing business to international customers who otherwise wouldn't be able to easily communicate with you. This is a great tool to have for any support team!
Xeno's multilingual chatbox adapts to your contact's browser. If, for instance, your contact is in Russia, the chatbox will be displayed in Russian, making it that much more inviting to them. On top of that, Xeno offers automatic translation! This means that your Russian contact would open the chatbox (in Russian) and be able to send you a message in Russian. On your end, you would automatically receive the message translated into the language of your choice! This completely abolishes language barriers and makes it so easy for you to communicate with contacts, wherever they are in the world.
Meetings
With Xeno's meeting feature, say goodbye to the back-and-forth emails with a contact to find the perfect day and time to schedule a meeting!
Xeno's Meetings feature allows contacts to easily book a meeting with your team in a matter of clicks.
The best part is, this meeting feature can be accessed directly from the chatbox or from a dedicated web page specifically for scheduling meetings.
Xeno's Meetings feature connects seamlessly to your calendar, be it Google or Outlook, and will only offer available time slots to your contacts, based on your calendar availability. This means avoiding last-minute meetings, and overlapping appointments, so rest easy!
Real-time Presence Page
Xeno's Real-time Presence Page allows you to see who is on your website at any given time. On top of that, Xeno gives you the possibility to reach out to any given website visitor, be it a known contact or a lead! You can choose between opening a conversation with them, manually, or sending them a predefined response to get things going. Combine this with the proactive chat feature mentioned above and this is a recipe for success!
Topics
Another feature that Xeno offers that makes it quicker and easier to get your contact in touch with someone who can efficiently help them!
You can create a variety of different topics that your contacts would be interested in and when they select one, they will be directed straight to the team member (or members) most fitted to answer questions on that specific topic.
That means less bouncing around for your contacts and less confusion for your team since they won't have to wonder about who would be best to take the next question.
Topics can also have subtopics, if you're looking to get specific. For instance, if you have the topic of Social Media Marketing, you could also have the subtopics of Social Media Graphics, Social Media Ads, and Social Media Management. The possibilities are endless!  
File Sharing
Another service that Xeno offers is file sharing. Xeno allows you to send and receive a variety of different files directly through the chatbox, making it easier for you and your contact to understand any given situation.
For instance, if you are chatting with a contact and they ask about the different packages you offer, you can simply send them any and all documents you have that outline your packages and strategies!
Sending files through the chatbox during a conversation offers a seamless experience for you contact, and for your team. No need to toggle between Xeno and your email provider for instance: you don't even need to switch pages, everything happens in Xeno. 
Authorized file formats include:  PDF, DOC, CSV, JPG, GIF, and PNG.
GDPR
Xeno is compliant with all GDPR regulations.
One of our GDPR compliant features is that you can easily delete conversations. You can do this manually, or you can set up regular intervals for conversations to be automatically deleted. For instance, every day, week, or month.
For more information on our GDPR compliance, feel free to check out our legal pages!
As a marketing agency, you wear many different hats. But that doesn't mean you have to run yourself ragged! With Xeno, you have all the tools you need to market your own services, capture leads, and convert them to clients, all in one spot. No more bouncing around from platform to platform and letting things slip between the cracks.
With features like live chat, automated communication, and a multilingual and collaborative inbox, our software can help you streamline your marketing process, save you time and frustration, and maybe even help you get new clients in the meantime!
If you're interested in completely changing the way you capture leads and convert clients for your marketing agency, schedule a demo with Xeno today!